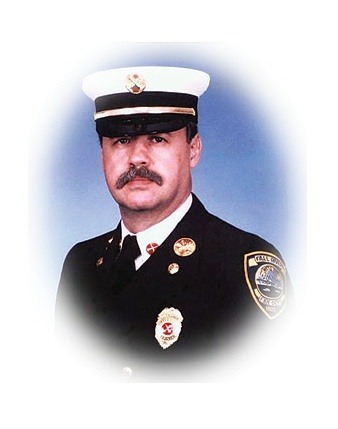 Gerry's Story

by Roger Nadeau



My brother, Gerald Nadeau, died in the line of duty from lung failure. Gerry was a career District Fire Chief with 25 years of service with the Fall River, Massachusetts, Fire Department. He went to a large apartment house fire, and about a week later he went to a hazmat incident. He had trouble breathing after those incidents and went to the Urgent Care Center 5 times in 5 days and then was hospitalized, placed in intensive care. He was transferred to Rhode Island Hospital where he was put on a respirator. His lungs were shutting down. I was in the hospital waiting area, when 14 firefighter that worked with Gerry came off the elevator to visit him. I took 2 at a time to his bedside, and they talked to him. After they left, we thought Gerry was going to be alright. But around 1 a.m., his blood pressure started to drop; and he left us at 4:30 a.m. on October 24, 2002, with his wife, Diane, and his 3 children by his side.
Gerry loved the fire service. He was an instructor for the Mass Fire Academy, was on the State Hazmat Team, and had a Bachelor's degree in Fire Science. And was going to teach Fire Science at the local college.
Gerry and I were close, and I was a Fire Chief in the next city, New Bedford. We would study and help each other to get the right books and material to study. He often asked me if he should study for Deputy Chief, and I would always tell him: "You have the best job on the Dept., and you have time off. I don't. Stay a District Chief and enjoy your trips to Disney World with your children." Well, he did go to Disney World, several times a year. They loved the rides and times together.
It's strange how he followed my footsteps throughout his career. I started on Engine 7, so did he. I was on Ladder 2, so was he. Then, onto Fire Prevention as a Lieutenant, so was I. He also was a Captain on a Ladder Co., so was I. When I got promoted to District Chief, I gave him my Captain lapel badges. He also became a District Chief, in car 2. My Deputy's car was car 2. As I look back, it is an awesome thing that happened to us. BROTHERS in life and in the Fire Service. I later found out that I was his mentor; boy, that hit me like a ton of bricks.